Welcome
We have performed more than 2000 musculoskeletal tumor operations since 2003. We do limb-sparing surgery and we have pioneered many surgical techniques of orthopaedic oncology.


Our patients come from all over the extended Athens city area as well as nationally and internationally.

Our Center
For nearly 15 years, our center has been at the forefront of advances in musculoskeletal tumor surgery.


We have extensive experience treating both bone and soft tissue tumors of the extremities, pelvis, shoulder girdle and spine. This has allowed us to develop techniques for the treatment of benign and malignant musculoskeletal tumors that help reduce the risk of tumor local recurrence while maximizing limb function.


We are specialists in the treatment of benign bone and soft tissue tumors such as cysts, giant cell tumor of bone, osteoid osteoma, as well as malignant tumors such as chondrosarcoma, osteosarcoma, Ewing's Sarcoma, soft tissue sarcomas as well as metastatic bone tumors.

Limb Sparing Surgery
Two decades ago, the treatment for almost all primary malignancies of the extremities was amputation. Major advances in surgery, chemotherapy and radiation therapy have revolutionized the treatment of these malignant tumors. Limb-sparing surgery is now safe and effective for most patients with sarcomas.

The goal of limb-sparing surgery is safe and removal of musculoskeletal tumors with clear surgical margins while maximizing limb function.


Adjuvant therapies such chemotherapy and radiation therapy is used for patients with certain malignant tumors. A close, collaborative environment between physicians helps ensure the best possible outcome for patients while minimizing complications.

We specialize in the use of a metallic endoprostheses to reconstruct bone defects and joints after the removal of bone tumors. With advances in surgical techniques and endoprosthetic designs, we have now achieved a greater than 90% ten-year survival rate for these prostheses at most anatomic sites and an overall limb salvage rate between 90-95%.

Joint Revision Surgery (non-oncological) We are also able to use limb-sparing surgical techniques and implants (megaprostheses) for patients who have undergone joint replacement but have suffered complete failure of their original implants due to aseptic loosening or infection. This can often offer these patients the best hope of regaining function and reducing pain.

Interventional Oncology
Interventional radiologists at our institution are also able to perform preoperative embolization of tumors which can dramatically reduce surgical blood loss for certain types of tumors as well as radio-frequency ablation which can eliminate the need for surgery for certain tumors such as osteoid osteoma.

Also, many patients with musculoskeletal tumors will undergo a biopsy. In order to perform safe limb-sparing surgery, it is critical to obtain the correct diagnosis of the tumor. An improperly performed biopsy can spread tumor cells and make limb-sparing surgery difficult or even impossible.

At our institution, we specialize in performing "minimally invasive" needle biopsies.

Our radiologists and pathologists are highly experienced in the use of computed tomography (CT) guided biopsy and pathological analysis in arriving at accurate diagnoses from even small portions of tumor tissue.

Facilities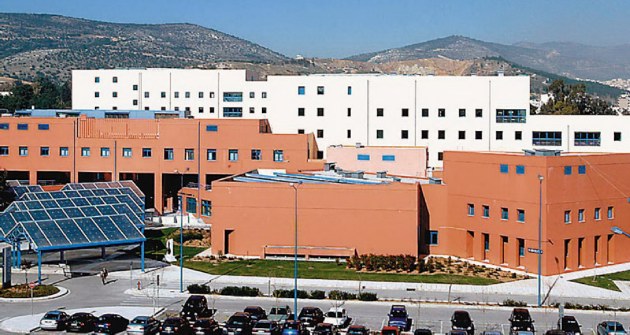 The
ATTIKON
, known as the "most experienced hospital" in the area, is the largest hospital in the Athens area. It is highly regarded for its cardiovascular, orthopaedic reconstruction and its oncologic services.
The
Athens Musculoskeletal Tumor Center
at the
ATTIKON Athens University General Hospital
is designated bone cancer treatment facility in Athens and is known nationally and internationally for the strength of this research and clinical programs. It offers adult oncologic services through the
Division of Oncology
of the Second Department of Internal Medicine (Ass. Prof. A. Psyrri) and the
Division of Radiation Oncology
(A. Professor V. Kouloulias).
Patients with hematological diseases of the bone (multiple myeloma and lymphoma) are manged both at the Division of Hematology of ATTIKON Hospital (Ass. Prof. V. Pappa) and by the Myeloma Group of the Department of Clinical Therapeutics, at ALEXANDRA University Hospital (Professor and Chairman M. A. Dimopoulos).

Many of our pediatric patients are treated In conjunction with the Department of Pediatric Oncology and Hematology at
Agia Sofia and Aglaia Kyriakou Childrens's Hospital
where advanced diagnostic and treatment techniques are provided in an environment carefully designed for children and adolescents.